Downieville Classic Registration Information
The race has SOLD OUT!
We will not be offering on-site registration.
REGISTRATION INSTRUCTIONS:
Packet Pick-up - Friday
Sign waivers, pick up bib # and timing chips in Downieville at the Community Hall
3:00-7:00pm
Onsite Registration: Saturday in Sierra City at the Community Hall
7:00-9:00am Register for event and Pre-registered racers sign waivers, pick up bib number and timing chip
9:00am Racer Registration CLOSES. No exceptions
9:30am Start of Cross Country Race
PLEASE NOTE: NO REFUNDS ARE OFFERED FOR THIS EVENT!
All Mountain Event participants will use the same bib # each day and will be responsible for holding onto this bib # with the computer timing chip attached to the back. No transfers or exchanges.
Races will be held rain, shine, sleet or snow. In the event of extreme weather or natural disaster, the ride may be shortened, postponed or canceled without refund.
Registration Transfers
The final deadline for all transfers is Monday July 29 at 11:59pm Pacific.

In the event you are looking to sell your registration or wanting to be added to the waitlist, please contact heather@sierratrails.org. When emailing Heather, please specify the transfer is for the Downieville Classic and whether the race slot is for the All Mountain or Cross Country.

If you have a registration and know someone that wants to buy it, then have them complete the appropriate transfer form on the registration website, here: https://timeyourrace.com/downieville/. A $35 transfer fee applies to all changes and transfer requests.
Thank you all for your continued support of this event.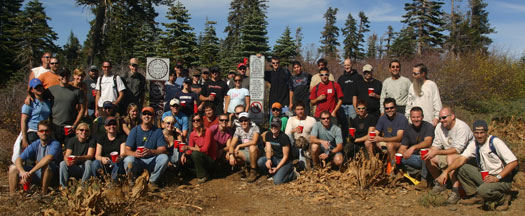 All net proceeds from this event go directly to the Sierra Buttes Trail Stewardship trail maintenance program. In addition to entry fees, SBTS will receive all proceeds from prize drawings, silent auctions and beer donations. In all, it should amount to $25,000 or more, depending on racer turnout and the amount of beer that gets consumed. That's $25k going directly into the maintenance and restoration of the Downieville Trail System.
Money well spent in our minds, and you get to have a damn good time in the process.