The Lost Sierra Triple Crown – A Premier Knobby Tire Challenge
2017 Lost Sierra Triple Crown Final Results
Turn phone horizontal to read results
| | | | | | | | |
| --- | --- | --- | --- | --- | --- | --- | --- |
| Category | First Name | Last Name | Bib No | Lost & Found Pts | Downieville XC Pts | Grinduro Pts | Triple Crown Pts |
|   | | | | | | | |
| Men 30 & Under | Daniel | Hoeppner | 1589 | 185 | 120 | 185 | 490 |
| Men 30 & Under | Travis | Gerrity | 1573 | 145 | 145 | 145 | 435 |
| Men 30 & Under | Cody | Leuck | 1618 | 110 | 185 | 60 | 355 |
| Men 30 & Under | Justin | Eagleton | 1553 | 120 | 110 | 120 | 350 |
| Men 30 & Under | Chris | Seymour | 1692 | 80 | 90 | 110 | 280 |
| Men 30 & Under | Grant | Lacey | 1609 | 100 | 100 | 70 | 270 |
| Men 30 & Under | Dillon | Osleger | 1655 | 90 | 80 | 80 | 250 |
| Men 30 & Under | Dylan | Wright | 1718 | 70 | 60 | 100 | 230 |
| Men 30 & Under | Winston | Lazar | 1612 | 60 | 70 | 90 | 220 |
|   | | | | | | | |
| Men 31-40 | Erik | Nelson | 1644 | 185 | 120 | 185 | 490 |
| Men 31-40 | Jeremy | Benson | 1510 | 145 | 185 | 145 | 475 |
| Men 31-40 | Jamie | Knowlton | 1605 | 120 | 145 | 110 | 375 |
| Men 31-40 | Bala | Seward | 1691 | 110 | 100 | 120 | 330 |
| Men 31-40 | Elliott | Nolan | 1649 | 100 | 110 | 100 | 310 |
| Men 31-40 | Thomas | Naab | 1642 | 90 | 70 | 70 | 230 |
| Men 31-40 | Brendan | Mitchell | 1636 | 70 | 80 | 30 | 180 |
| Men 31-40 | Cameron | Falconer | 1562 | 60 | 90 | 20 | 170 |
| Men 31-40 | Nathan | Hurst | 1593 | 80 | 24 | 60 | 164 |
| Men 31-40 | Nehemiah | Brown | 1525 | 50 | 16 | 80 | 146 |
| Men 31-40 | Daniel | Barlach | 1505 | 24 | 20 | 90 | 134 |
| Men 31-40 | Adam | Aguilar | 1500 | 40 | 40 | 50 | 130 |
| Men 31-40 | Adam | Vollmer | 1708 | 16 | 60 | 24 | 100 |
| Men 31-40 | Ian | Dapot | 1544 | 20 | 30 | 40 | 90 |
| Men 31-40 | Alec | Riendeau | 1674 | 12 | 50 | 16 | 78 |
|   | | | | | | | |
| Men 41-50 | Mike | Castaldo | 1533 | 185 | 120 | 185 | 490 |
| Men 41-50 | Justin | Robinson | 1675 | 145 | 185 | 120 | 450 |
| Men 41-50 | Greg | Willard | 1715 | 110 | 110 | 145 | 365 |
| Men 41-50 | Alex | Work | 1717 | 120 | 145 | 80 | 345 |
| Men 41-50 | Travis | T | 1701 | 90 | 90 | 110 | 290 |
| Men 41-50 | Alan | Fox | 1567 | 80 | 100 | 100 | 280 |
| Men 41-50 | Stephen | Biggs | 1513 | 100 | 80 | 90 | 270 |
|   | | | | | | | |
| Men 51-60 | George | Hope | 1592 | 185 | 145 | 185 | 515 |
| Men 51-60 | Blake | Bockius | 1516 | 145 | 110 | 120 | 375 |
| Men 51-60 | Anthony | Anderson | 1501 | 110 | 185 | 30 | 325 |
| Men 51-60 | Herbert | Bool | 1517 | 120 | 80 | 110 | 310 |
| Men 51-60 | mark | anolik | 1502 | 80 | 120 | 90 | 290 |
| Men 51-60 | Joshua | Josephson | 1596 | 90 | 100 | 100 | 290 |
| Men 51-60 | Mitchell | Bramlett | 1521 | 50 | 90 | 145 | 285 |
| Men 51-60 | Keith | Kenworthy | 1601 | 100 | 70 | 70 | 240 |
| Men 51-60 | donald | lewis | 1619 | 60 | 40 | 50 | 150 |
| Men 51-60 | Raul | de Anda | 1546 | 70 | 60 | 16 | 146 |
| Men 51-60 | Jeffrey | Bramlett | 1520 | 40 | 24 | 80 | 144 |
| Men 51-60 | Wilk | von Gustedt | 1709 | 16 | 30 | 60 | 106 |
| Men 51-60 | Hans | Kellner | 1600 | 24 | 50 | 24 | 98 |
| Men 51-60 | Willie | Willis | 1716 | 30 | 16 | 40 | 86 |
| Men 51-60 | Randy | Lear | 1613 | 20 | 20 | 20 | 60 |
|   | | | | | | | |
| Men 61+ | George | Cruz | 1540 | 185 | DNF | 185 | 370 |
|   | | | | | | | |
| Women 30 & Under | Courtney | Sullivan | 1698 | 185 | 185 | 185 | 555 |
|   | | | | | | | |
| Women 31-40 | Amanda | Schaper | 1687 | 185 | 185 | 185 | 555 |
| Women 31-40 | Leslie | Oley | 1653 | 120 | 145 | 145 | 410 |
| Women 31-40 | Fran | Doherty | 1550 | 145 | 120 | 120 | 385 |
|   | | | | | | | |
| Women 41+ | Tera | Muir | 1639 | 185 | 185 | 185 | 555 |
|    | | | | | | | |
| Single Speed Open | Brendan | Lehman | 1615 | 185 | 185 | 185 | 555 |
|   | | | | | | | |
| Pro Men | Carl | Decker | 1547 | 185 | 145 | 185 | 515 |
| Pro Men | Geoff | Kabush | 1597 | 145 | 185 | 145 | 475 |
| Pro Men | Jason | King | 1603 | 100 | 90 | 120 | 310 |
| Pro Men | Barry | Wicks | 1714 | 120 | 110 | 80 | 310 |
| Pro Men | Matt | Lieto | 1621 | 110 | 80 | 110 | 300 |
| Pro Men | Scott  | Chapin | 1534 | 80 | 120 | 90 | 290 |
| Pro Men | Emery | Wedel | 1710 | 90 | 70 | 100 | 260 |
|   | | | | | | | |
| Pro Women | Katerina | Nash | 1643 | 185 | 185 | 185 | 555 |
| Pro Women | Emily | Kachorek | 1598 | 145 | 145 | 80 | 370 |
| Pro Women | Sian | Turner Crespo | 1706 | 120 | 120 | 120 | 360 |
| Pro Women | Caroline | Dezendorf | 1548 | 80 | 110 | 145 | 335 |
| Pro Women | Kaydee | Raths | 1669 | 110 | 90 | 100 | 300 |
| Pro Women | Campbell | Steers | 1695 | 90 | 100 | 110 | 300 |
| Pro Women | Megan | Ruble | 1737 | 100 | 80 | 90 | 270 |
Lost Sierra Triple Crown Points System
1st - 185 pts
2nd - 145 pts
3rd - 120 pts
4th - 110 pts
5th - 100 pts
6th - 90 pts
7th - 80 pts
8th - 70 pts
9th - 60 pts
10th - 50 pts


11th - 40 pts
12th - 30 pts
13th - 24 pts
14th - 20 pts
15th - 16 pts
16th - 12 pts
17th - 10 pts
18th - 8 pts
19th - 6 pts
20th - 4 pts

"After a few friends took on the challenge of doing all three events last year, we thought it would be really fun to make the Lost Sierra Triple Crown an official event for 2016," said Greg Williams, Executive Director, SBTS. "We believe the Triple Crown will be the ultimate test of a true backcountry rider, because if you've ever ridden in the Lost Sierra or done one of our events, you know that there's no hiding; you have to be super fit and extremely skilled to prevail."
For riders seeking the ultimate challenge of both fitness and bike handling skills, the Sierra Buttes Trail Stewardship introduces a new three-event series for 2016 called the Lost Sierra Triple Crown.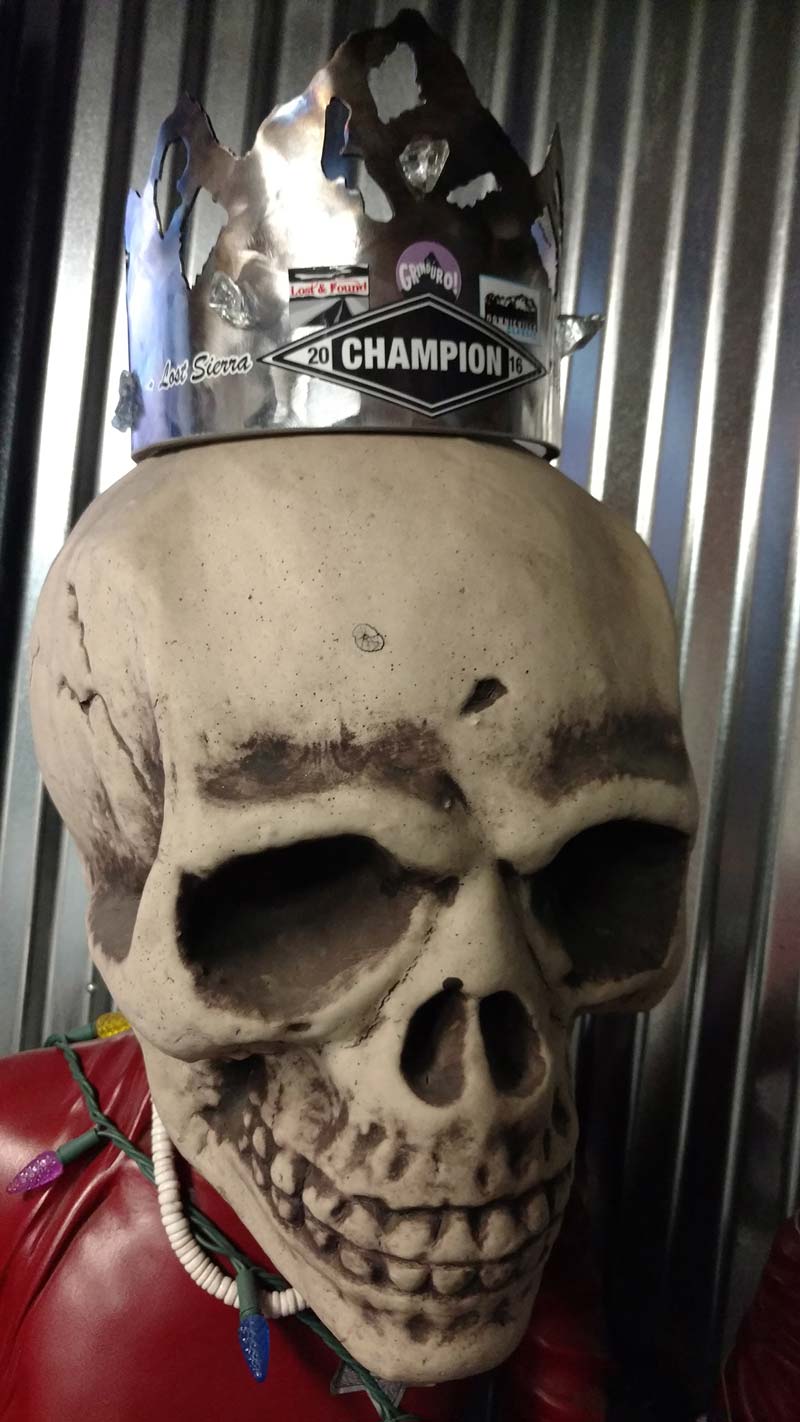 Consisting of the:
Lost & Found 100-mile Gravel Grinder - June 3rd
The Lost & Found course features a perfect blend of pavement, dirt road, gravel road and historic railroad grade. Racers must choose their weapon wisely (road bike, cross bike or mountain bike). The route is 100 miles with 7,000' of elevation gain and is 80% dirt.
More info.
Downieville Classic Cross-Country - August 5th
The Downieville Classic cross country race is one of the last remaining point-to-point bicycle races in the United States. The 29 mile course follows a rugged "Gold Rush" era route that departs the mountain town of Sierra City (elevation 4,100'), climbs to the crest of the Sierra Nevada (elevation 7,100'), and then plunges 5,200 vertical feet into downtown Downieville.
More info.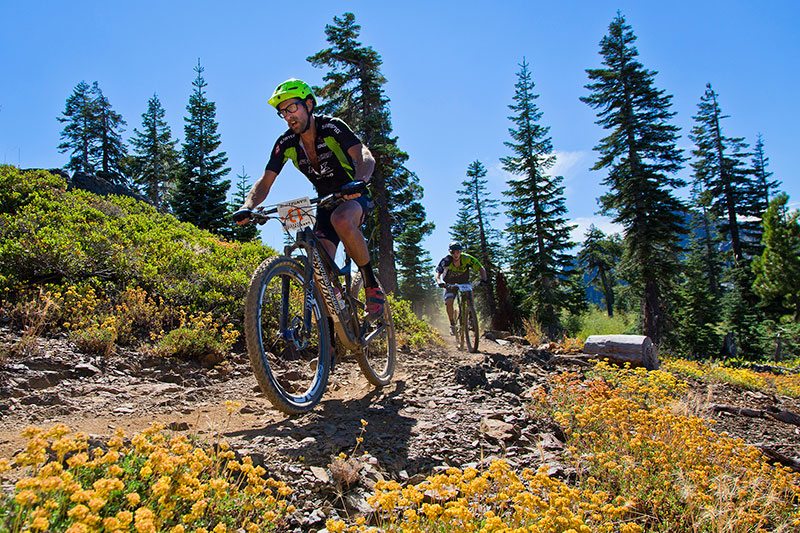 Grinduro - October 7th
Grinduro is just what the name suggests: Gravel Road Race + Mountain Bike-Style Enduro = one long loop of pavement and dirt, where finishing times aren't based on overall loop time, but four timed segments (each roughly five-to-seven minutes). The course is a serious affair (7,500-feet of climbing in 60 miles) but the Grinduro isn't meant to be a sufferfest.
More info.
The Lost Sierra Triple Crown will promise to be a fun and challenging endeavor for all participants.
The Lost Sierra Triple Crown will be based on the same points system used in the Downieville Classic All-Mountain World Championships, and will be applied to placing based on the three aforementioned events across 14 categories.
To be eligible, riders must register for the Lost & Found 100-mile event, the Downieville Classic Cross-Country (All-Mountain participants are also eligible) and the Grinduro – a unique event combining a gravel grinder with an enduro.
Triple Crown winners will be announced at Grinduro on October 7th.
Riders can use any bike they wish for the three different events; the same bike is not required. For those not familiar with the three events, a cyclocross bike with disc brakes and tubeless tires has been very successful at the Lost & Found and Grinduro, while a capable hardtail or lightweight full-suspension bike with durable tires works best for Downieville.
Riders participating in the Lost Sierra Triple Crown must indicate during registration of each event they wish to take part by clicking a box during the registration process. Racing age will be determined based on age as of December 31, 2017. Registration for the first event in the series, the Lost & Found, will open on January 10. With attendance doubling between its first and second years, the third-annual Lost & Found at Lake Davis, Calif. on June 4 will likely double in attendance again for 2017, so early registration is recommended.
Registration for the Downieville Classic opens March 13 while registration for Grinduro opens on April 17. Both events are expected to sell out quickly, so participants are encouraged to mark their calendars and register on the opening dates. There is no registration offered for all three Triple Crown events at one time, participants must register individually for each event.