Downieville Classic Registration Information
Registration opens March 31st at 8pm PST! Mark your calendars!
The last couple of years, the race has sold out, so make sure to get on it!
A link will be posted to this page, and we will pre-announce via email and social, so be sure to follow us.
REGISTRATION INSTRUCTIONS:
1. All racers will be required to sign a waiver and show ID to pick up bib # with computer timing chip attached.
Those under the age of 18 must have a parent or guardian present to sign waiver and pick up bib number.
Only registered racers can pick up their own bib numbers, i.e., please do not have friends or family attempt to pick them up!
Please refer to race website to confirm registration, category and bib #. It will expedite picking up bib #'s if you know your bib #.
Registration volunteer staff will ask for the bib # to look up name and category. Racer lists will also be provided at packet pick up on A-frames outside the community halls.
2. Packet Pick-up - Friday
Sign waivers, pick up bib # and timing chips in Downieville at the Community Hall
3:00-7:00pm
Onsite Registration: Saturday in Sierra City at the Community Hall
7:00-9:00am Register for event and Pre-registered racers sign waivers, pick up bib number and timing chip
9:00am Racer Registration CLOSES. No exceptions
9:30am Start of Cross Country Race
PLEASE NOTE: NO REFUNDS ARE OFFERED FOR THIS EVENT! ALSO, THERE IS A $35 TRANSFER FEE, SO BE SURE TO DOUBLE CHECK THAT THE RACING CATEOGRY IS CORRECT UPON REGISTERING.
3. All Mountain Event participants will use the same bib # each day and will be responsible for holding onto this bib # with the computer timing chip attached to the back. No transfers or exchanges.
Races will be held rain, shine, sleet or snow. In the event of extreme weather or natural disaster, the ride may be shortened, postponed or canceled without refund.
Registration Transfers
Please contact Heather for transfer questions. Any racer who wishes to transfer his/her spot to another racer must first contact the Race Registration Coordinator to give permission to give the spot up, including the NEW racer's name. There is a $35 transfer fee for all changes that can be paid via Eventbrite via the registration link.
Thank you all for your continued support of this event.
We will be using a professional registration service to handle race registration. After billing, there will be NO refunds, exchanges or credits given. NO exceptions! If there is an error in billing, contact the registration service. Class changes may be made after registration is complete with a $35.00 fee, so be sure you enter into the proper age and class the first time.
In the event that a natural disaster (ie. forest fire) causes the cancellation of the Downieville Classic mountain bike races, there will be no refunds issued. All pre-registered/pre-payed riders will be given priority in registering for the following year.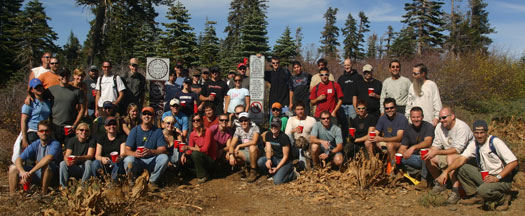 All net proceeds from this event go directly to the Sierra Buttes Trail Stewardship trail maintenance program. In addition to entry fees, SBTS will receive all proceeds from prize drawings, silent auctions and beer donations. In all, it should amount to $25,000 or more, depending on racer turnout and the amount of beer that gets consumed. That's $25k going directly into the maintenance and restoration of the Downieville Trail System.
Money well spent in our minds, and you get to have a damn good time in the process.