Downieville Classic Important Information
Sierra City parking, registration location and racer staging
Downieville Classic event schedule
Parking in Downieville: Parking may be available in the following areas: Cannon Park lot at west end just before entering town (coming from Nevada City); US Forest Service lot over the green bridge past the courthouse and down the hill to the left; and on the levee on the southeast end of town as your leaving Downieville on Highway 49 headed toward Sierra City.

Downieville Classic History
The population of the world is currently six billion, fifty nine million, four hundred twenty three thousand. Give or take a million. Just a generation ago in 1960, when most of us were still mere twinkles in the eyes of our parents, there were half that many people in the world. A hundred years before that, the population of the planet had barely broken a billion.

But that's just the tip of the iceberg, folks. By the end of the next thirty years, there will probably be more than TEN BILLION of us squeezed onto this beautiful blue-green ball of life. That is one heck of a lot of people.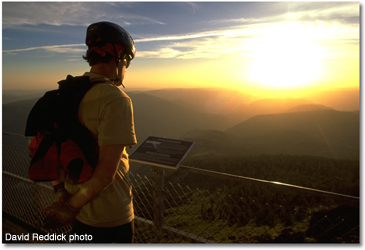 And they'll all want somewhere to play.

Downieville is a very unique place. It boasts a vivid history, and sits in one of the most beautiful spots on this rapidly shrinking planet. You can do almost anything here without breaking any laws or stepping on any toes. The trails are sublime and seem endless, climbing from rivers to peaks and snaking invisibly through trees. It is a place where you can ride for a couple hours and find somewhere that feels truly quiet. Empty. This is a rare fortune, possibly worth more than any gold ever taken from these hills, and one that will only increase in value as we increase in numbers.

As with any fortune, care must be taken to keep it intact. Come here, by all means. Ride the epic trails. Breathe the air and taste the water. Treat the land, the air, the rivers, and the people who call this place home, with respect. Because as tough and hardy as it may seem here, as much as the local trails may thrash you, this is a paradise too fleeting and fragile for any of us to lose. We can't afford that.

Respect, remember.
- Mike Ferrentino
MORE INFO: This event is under special use permit with the Tahoe National Forest. Non-Discrimination Notice. In accordance with Federal law and U.S. Department of Agricultural policy, this institution is prohibited from discriminating on the basis of race, color, national origin, sex, age or disability. (Not all prohibited bases apply to all programs.) To file a complaint of discrimination, write USDA Director Office of Civil Rights, Room 326-W, Whitten Building, 1400 Independence Avenue, SW, Washington, D.C. 20250-9410 or call (202) 720-5964 (voice and TDD). USDA is an equal opportunity provider and employer.